Role of Pedagogical Content Knowledge
in Effective Teaching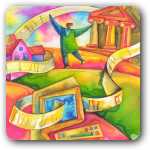 Some teachers only emphasise the subject matter when they teach. Others focus on the use of general pedagogical methods such as questioning techniques. Recently, scholars have recognised that both the subject matter knowledge and pedagogical knowledge are crucial to good teaching and student understanding. In fact, Shulman (1986) has suggested that teaching expertise should be described and evaluated in terms of pedagogical content knowledge (PCK). PCK differentiates expert teachers in a subject area from subject area experts.

For the last twenty years, much work had been done on the conceptualisation of PCK. Although scholars could not agree on its definition, there has been consensus on the nature of this knowledge domain. The research by Ho (2003) goes a step further, to investigate how teachers develop their PCK. In this series of workshops, we will explore the challenges faced by educators today, what constitutes effective teaching, PCK, and S.E.A.T.S.


Session 1
Facing the Greatest Educational Challenge Today!
What constitutes Effective Teaching?
Session 2
The Teacher Knowledge Model
Session 3
More about PCK - Pedagogical Content Knowledge
Session 4
S.E.A.T.S. – Simply Extending All Teaching Strategies
Session 5
Small group presentations
Session 6
Small group presentations
Firming and Affirming

Profile of Facilitator: Dr Ho Boon Tiong, PhD


Boon Tiong spent 21 years as an educator, including 7 years teaching in schools, 6 years in the Gifted Education Programme of the Ministry of Education and the last 8 years as a university professor.

His expertise in pedagogical and andragogical knowledge coupled with his passion in wanting to work with teachers made him a much sought after speaker and workshop. He is well known for his creative mind, lively humour, and enthusiasm.

For four consecutive years, he was a Fellow of the Teachers' Network of the Ministry of Education.
Schedule: Three full days or six half days

Recommended class size: 40 participants