Teaching Primary Science
with Confidence & Creativity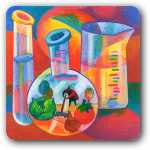 This workshop aims to introduce various innovative and practical teaching strategies to help primary science teachers teach with confidence and creativity. To help enhance teachers' content knowledge as well as teachers' pedagogical content knowledge (PCK), the sessions will focus on particular topics from the curriculum development perspective.

In the first hour, teachers will be introduced to principles and practice of curriculum differentiation. In the second hour, teachers are given the opportunity to develop curriculum materials. And in the last hour, teachers share these resources with one another. Questions from teachers are encouraged and full participation envisaged through small group discussions.


Session 1
'Weaving' in Primary Science Teaching
The 6Ps of Curriculum Differentiation
Session 2
Using Multiple Intelligences in Curriculum Development
Looking at Magnets with the theme of Interactions
Session 3
S.E.A.T.S. – Simply Extending All Teaching Strategies
Looking at the theme of System
Session 4
Using the Science Syllabuses to Teach Effectively
Building Enduring Understanding in Pupil Learning

Profile of Facilitator: Dr Ho Boon Tiong, PhD


Dr Ho Boon Tiong is the Founder and Principal Consultant Educationist of ClassPoint Consulting. He is also a part-time lecturer with the National Institute of Education (NIE) and had at least 21 years of experience in education. Having taught in schools for 7 years, he also worked in the Ministry of Education (MOE) HQ, Gifted Education Branch for 6 years developing curriculum for the gifted and was a professor of science teacher education at NIE for the last 8 years.

Most recently, he had provided consultancy to many primary and secondary schools for action research, curriculum development work and teacher professional development programmes. Dr Ho had served as a committee member of the Science Syllabus Review Committee at the MOE.
Schedule: Two full days or four 3-hour sessions

Recommended class size: 30 - 40 participants

Target audience: All primary science teachers