Dr Ho Boon Tiong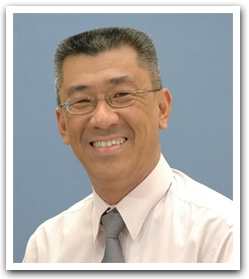 Dr Ho Boon Tiong is the Principal Consultant of Classpoint Consulting, an educational training and consulting firm.

Dr Ho was Assistant Professor with the Natural Sciences and Science Education academic group of the National Institute of Education, Nanyang Technological University. He graduated from the National University of Singapore in 1985 and obtained his Diploma-in-Education (with credit) the year after. He holds a Master of Education specializing in effective schools research and management as well as a Doctor of Philosophy in the field of science teacher education, particularly in the domain of pedagogical content knowledge (PCK).

He has been involved in education since 1986. He taught Science, Mathematics and English Language at the secondary level for 7 years, including one year teaching the gifted students and two years as Head of Department. He was a Gifted Education Specialist with the Ministry of Education for 6 years. For four consecutive years since 2000, he was conferred a Fellow with the Teachers' Network of the Ministry of Education.

His wide-ranging research interests include teacher education, science education, curriculum development, teaching of thinking, school effectiveness and improvement, management and Learning Organization. He has presented and published in various local, national, regional and international conferences and journals. He was awarded the Educational Research Association (ERA), Singapore/Australian Association for Research in Education (AARE) Travel Award to present his Master thesis in the AARE Brisbane Conference in 1997. He is a member of several professional bodies such as the Educational Research Association, Singapore, the AARE, the Science Teachers' Association of Singapore, the Association for Supervision & Curriculum Development, Singapore (ASCD), the Singapore Center for Thinking (SCT), the international Association for the Study of Cooperation in Education (IASCE); the Association of Mathematics Educators (AME) and the Singapore Institute of Management (SIM).

Boon Tiong is also a fully qualified and accredited administrator of the Myers-Briggs Type Indicator (MBTI) and is much sought after by schools as a speaker and a workshop facilitator for his creative mind, lively humour, and enthusiasm. To date, he has conducted numerous workshops for schools and presented in many seminars and local and international conferences.